Web to Print
Grow your printing business with Key2Print photo mobile app
---
Mobile market is growing year by year, people take tons of photos. Combine our photo app with your printing house and gain opportunity to expand your business and take the mobile market by the storm. Now you can buy this app for your printing house and make it available to your customers under your own logo and brand.
How does it work?
It's really simple –  using photos taken with a smartphone or downloaded from Instagram or Facebook your customer can create their own photo product in a convenient way – first he makes a custom project, then he easily and safely pays online, next photos are sent to the server and there a pdf file is generated, this file is sent to a printing house that takes care of printing, and at the end ship a finished product to the address specified by the user. The app supports both Android and iOS, so most people in the world can use it.
Why we know what we are doing?
Key2print is a web to print system provider, we have more than 200 implementations worldwide, and that is why, thanks to our specific experience in the printing field, we developed our app to generate great quality photos, perfect for printing, we ensured that the app is easy and safe to use, and creating fine photo products for your customer.
Why printing industry needs this app, and why it needs it now.
The mobile market is growing fast. So many great apps are created every day. People nowadays are using their phones to connect with friends and family to entertain themselves to work and to buy stuff. That means that many people use their smartphones almost all day, every day. Unfortunately, as one of the few, the printing industry is not taking advantage of that. Very few printing companies are using mobile market to profit their and their client's business.
Let's look at the numbers. A smartphone user take hundreds of photos with his phone every month. These are the monthly numbers for a single user, by average:
Europe – 147 photos,

USA – 606 photos,

Africa – 234 photos,

Asia – 450 photos,

South America – 354 photos.
So, as you can see, the numbers are really great, and you can use that. Just think about it – now all of those people are able to print their photos with our app. Therefore, it allows your printing business to benefit from that huge mobile market. Isn't that great?
That is why our app is an answer for a changing market, because in a very simple way it allows printing industry to gain from this rapidly growing sector. This market is huge and unsaturated, so why not take advantage of that?
10 reasons why your business needs our app.
#1 Photo market is huge and unsaturated – find your place among thousands of companies taking advantage of mobile market.
#2 Our app supports Android and iOS so you can benefit from 95% of mobile users.
#3 It's an app – so it has a way better usability comparing to mobile website, and that is why your customers will love it!
#4 If this app is installed on your customer's smartphone, he will probably come back to it to make another order. Conclusion? Decrease your customer acquisition cost and increase lifetime value of customer.
#5 It's the most convenient way for your customer to play with photos taken with their smartphone, as well as downloaded from Facebook or Instagram.
#6 Push notification feature available in our app will help you to moderate users and nurture their need to share photos with others.
#7 The app is integrated with Key2Print – the fastest growing web to print software – it's equipped with print production features and can be integrated with ERP/MIS.
#8 It can connect you with a world-wide operating print partner if you do not print on your own.
#9 Find new market to monetize your digital press, photo printer, wide format printer. Build a new kind of business on a much less competitive market
#10 You can brand this app as your own, this feature is available for you now.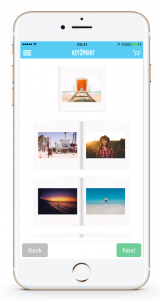 Do not miss the opportunity!
NOW you can participate in the world premiere of a mobile app, that allows your customers to create and  customize photo products! Be the first one and become a mobile market leader in the printing industry!
Our app allows your customers to order:
photo prints

photo books

wall calendars

wall canvases

and many more
Soon this app will be a new standard in bringing new customers to printing business, so do not let your competition to be first and better than you! Order now and start making money!
Use cases 
Some examples how you can monetize our app in smart way
Use App to cooperate closer with your existing or new corporate customers and offer them mobile app as a support for their promo-actions, then print for them i.e.:

Digital personalized package
Photobook as a bonus for order
Photocalendar as an award in contest

Cooperate with fan clubs – give them an custom app and become an official manufacturer for their promotional photo gadgets
Promote your region – cooperate with local tourist society – Chambers, Hotels, Airlines (why not?!) – and print photo gadgets using custom layouts with local themes.
Work with NGO's and help them raise funds
Create and expand your brand – introduce new products to the market and allow your customers to order them with ease. Send more jobs for your digital printing press and monetize your investment.
For more details contact us – info@key2print.com or check http://pl.key2print.com/app